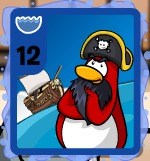 A Power Card is a special type of card that makes an animation of the picture on the card when used. They are numbered 9-12, and can change the battle by discarding cards, changing numbers of cards, discarding cards, and blocking elements.
List of starter power cards
Edit
Only power cards can be used in Card-Jitsu Snow.

The damage an opponent takes from a power card in Card-Jitsu Snow is the same as the power card's number (takes 11 damage if card value is 11)

Water power cards do double damage, fire power cards damage and stun enemies (cannot attack you for one turn), and snow power cards damage enemies and boost teammates' health.

Power cards can affect surrounding tiles in Card-Jitsu Water.
You can buy them from Martial Artworks for 1,500 coins.
Some power cards in the trading card game cannot be unlocked online, like Water Ninja or Water Sensei from special tins.