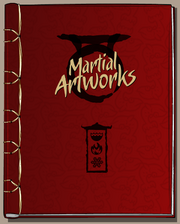 Martial Artworks
is a catalog located at the
Ninja Hideout
. Some of the item descriptions are written in haiku.
Items in italic are discontinued, and hidden items are not listed.
Amulet - 200 coins - you now get it for free when you start.
Ninja Outfit - 1000 coins
Cloud Wave Bracers - 250 coins
Goldsmith Apron - 100 coins
Hand Gong - 400 coins
The Storm - 300 coins
Lightning Gi - 450 coins
The Quicksilver - 350 coins
Ink Ceremony Robes - 550 coins
Golden Sun Suit - 500 coins
White Gi - 800 coins
Dojo Igloo - 1300 coins
Practice Mat - 700 coins
Tea Table - 650 coins
Rice Paper Wall Screen - 500 coins
Stone Lantern - 575 coins
It includes furniture and clothes.
The Stone Lantern is 575 coins, which is the same amount of syllables for a haiku (5-7-5).
The catalog had no hidden items, but as of 2011 some were added.
Ad blocker interference detected!
Wikia is a free-to-use site that makes money from advertising. We have a modified experience for viewers using ad blockers

Wikia is not accessible if you've made further modifications. Remove the custom ad blocker rule(s) and the page will load as expected.