Card-Jitsu
Information
Players
2
Room
Dojo and Ninja Hideout
Date released
November 17, 2008
Card-Jitsu is a game in Club Penguin which is very popular. Through the game you can win belts, become a ninja and challenge friends.
Main article: Belts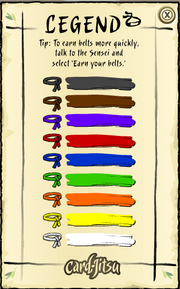 Belts are body items you can win from Card-Jitsu. There are 9 belts and they go as follows:
After getting the Black Belt, players can face Sensei to get the Ninja Mask and entrance to the Ninja Hideout. Also, if they are a member and they buy the Amulet, they get entrance to the Fire Dojo and furthermore, Card-Jitsu Fire.
It's belts are inspired by martial arts belts.
Ad blocker interference detected!
Wikia is a free-to-use site that makes money from advertising. We have a modified experience for viewers using ad blockers

Wikia is not accessible if you've made further modifications. Remove the custom ad blocker rule(s) and the page will load as expected.